Colonel James Tod, the first political agent of the East India Company in Rajasthan, called Udaipur the most romantic destination in India. Snuggled beside the serene Lake Pichola with ornate crests of Mount Aravalli stretching in each direction, Udaipur's natural charm is enhanced further by fantastical palaces, elaborately decorated residences, ancient temples, breathtaking havelis, and crooked streets. Consider exploring the lovely countryside on feet, horseback, or wheels.
The following article aims to inform you about the top 10 places to visit in Udaipur. Please check it out right now.
1. City Palace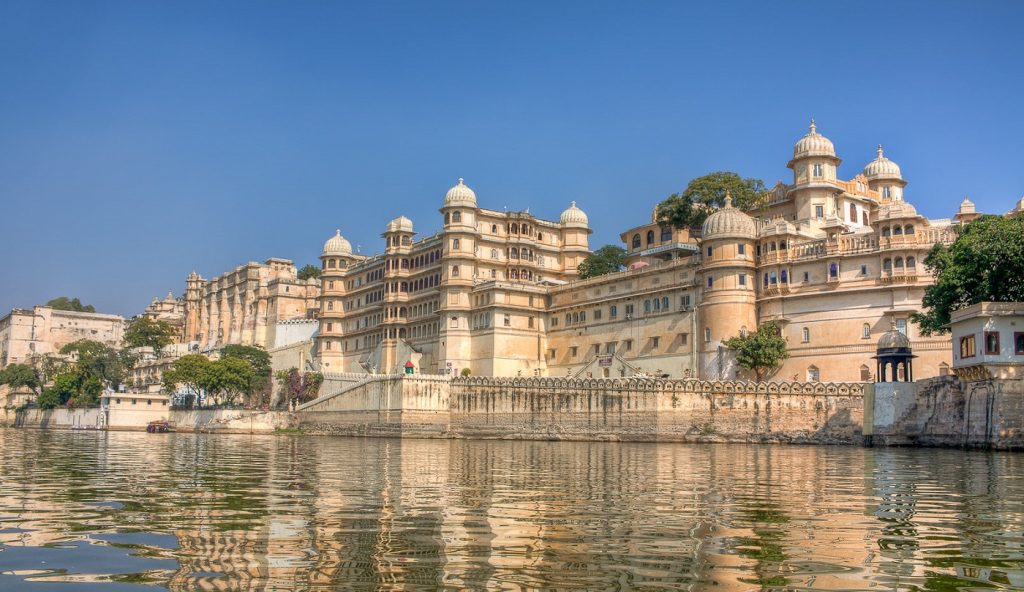 When preparing Udaipur tourist places list, make sure to include City Palace under all circumstances. It was constructed by Maharana Udai Mirza Singh in 1559. Located on the banks of Lake Pichola, City Palace is an amalgamation of Medieval, Chinese, and European architecture styles. It houses approximately eleven phenomenal fortresses, and they were all built during different periods by different rulers. The dimension of City Palace is astonishing with plenty of terraces, courtyards, hanging gardens, pavilions, and more.
City Palace is open all day from 9:30 am to 5:30 pm. You can cover it in two hours. The tickets cost 30 INR for adults and 15 INR for kids. Some of the fascinating spots in City Palace are as follows –
The museum displays a wide range of weaponries, war paintings, and accessories. All these are from the era of infamous monarchs that once ruled Udaipur.
The crowning hall has a tub manufactured from marble fitted into the ground. During the coronation, the tub burst with coins. After the ceremony, the coins were given to people from the windows.
The huge garden on the fourth floor has several tall trees. Beside it are the game and meeting rooms.
Finally, the diwan-e-aam area is the assembly place where the kings discuss significant affairs with their ministers. This area is full of intricate mirrors and a beautiful peacock in the middle is made of tiny pieces of glass.
Timings: 09:30 am to 05:30 pm (All Days)
Entry Fee: Rs. 30 for Adults and Rs. 15 for Children
2. Pichola Lake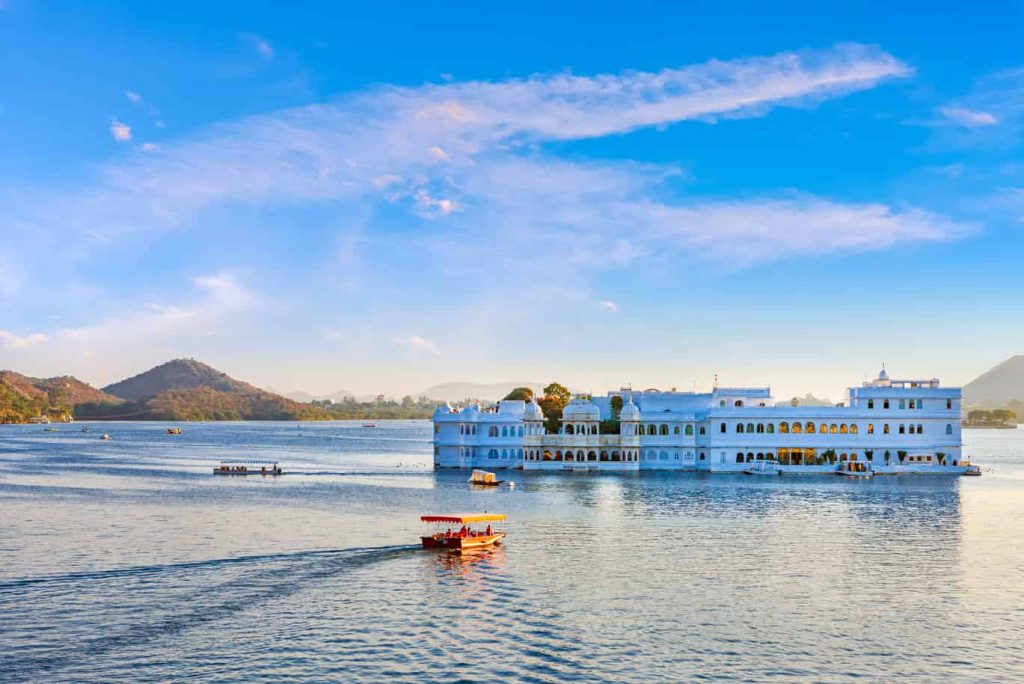 Pichola Lake is the best visiting place in Udaipur. Created in 1362 AD by Rana Udai Singh, this picturesque lake is encompassed by magnificent palaces, huge hills, aesthetic temples, and big bathing ghats. Tourists cruise in Lake Pichola to get stunning views of the entire town. Boat rides cost 400 INR for adults and 200 INR for kids. Boat rides during sunset cost 700 INR for adults and 400 INR for kids.
One of the most appealing attractions of Lake Pichola is the Lake Palace. If you are looking for Udaipur places to visit in 2 days, please go for the Lake Palace. It was constructed by Jagat Singh between 1628 and 1652. Decorative arch bridges at varied locations further rejuvenate the appearance of the lake. The bridges are built where Lake Pichola narrows down. The water needs to reach the banks after all.
You must also admire the elevated platforms along Lake Pichola. Natini Chabutara is most popular platform since an exclusive legend is related to it. A tightrope stroller, Natini, residing during the rule of Maharana Jawan Singh was asked by the drunk king to cross Pichola on a tightrope. Jawan Singh decided to present her a bit of the Mewar Kingdom if she succeeded. It is said that Jawan Singh cut the rope before Natini reached the lake and she fell. Natini cursed the king that his family would never have descendants directly. The curse came true as all of Jawan Singh's sons were adopted.
Lake Pichola, Udaipur
Timings: 09:00 am to 06:00 pm
Entry Fee: None
Boat Ride Fee:
Rs 400 per person for Adults
Rs 200 per person for Children
3. Sajjangarh Palace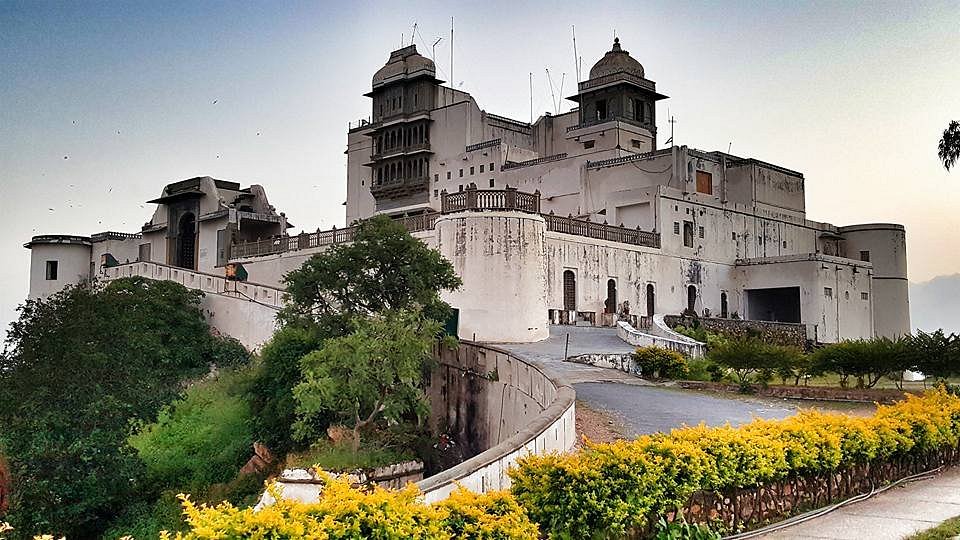 Sajjangarh Palace is one of the best Udaipur tourist places. Also known as the Monsoon Palace, it lies on top of a hill, and provides phenomenal views of the Fateh Sagar Lake as well as the Sajjangarh Wildlife Sanctuary. Sajjangarh Palace looks like a castle and depicts the lavishness of Rajput rulers. Built in the year 1884 by Sajjan Singh, from Sajjangarh Palace, you can enjoy panoramic views of mountains, lakes, and citadels. Take beautiful photographs out here.
Sajjangarh Palace remains open from 8 am to 6 pm. Tickets cost 10 INR for Indians and 80 INR for foreigners. The palace is one of the best places to visit near Udaipur because it had been utilized as a location for the 1983 James Bond film, Octopussy. It appears as the home of the main villain, Kamal Khan, a banished Afghan prince, played by Louis Jordan. Some of the sequences shot at Sajjangarh include a tiger hunting elephants. The scenes showing James Bond having dinner, running in between the rooms, and sliding the staircase are not shot inside the Monsoon Palace.
Timings: 8:00 am to 06:00 pm (Everyday)
Entry Fee: Rs. 10 for Indians, Rs. 80 for foreign nationals.
4. Udaisagar Lake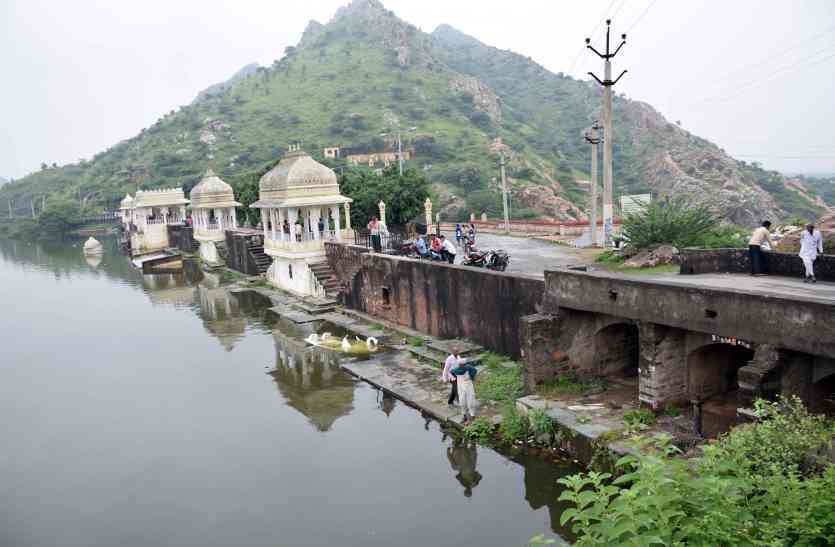 Udaisagar Lake is one of the best places to visit in Udaipur. It is one of the most acknowledged lakes of Udaipur constructed by Maharana Udai Singh in the year 1565. Udaisagar Lake is four kilometre long, 2 km wide, and 9 metre deep. There are threats to the lake tourists need to be aware of. According to research made by top environmentalists all across the globe, the water of Udaisagar Lake has phosphate. This may be due to the presence of phosphorite mines, distillery, and chemical factories around. The water cannot accommodate aquatic life and is unfavourable for human consumption.
The NLCP or National Lake Conservation Program took up the task of restoring and transforming Udaisagar Lake. The chief undertakings are as follows –
Reducing pollution in the lake
Limiting waste disposal
Limiting mining activities
Conserving wildlife around the lake
Protecting birds and heritage properties around
Timings: All round the day
Entry Fee: None
5. Fateh Sagar Lake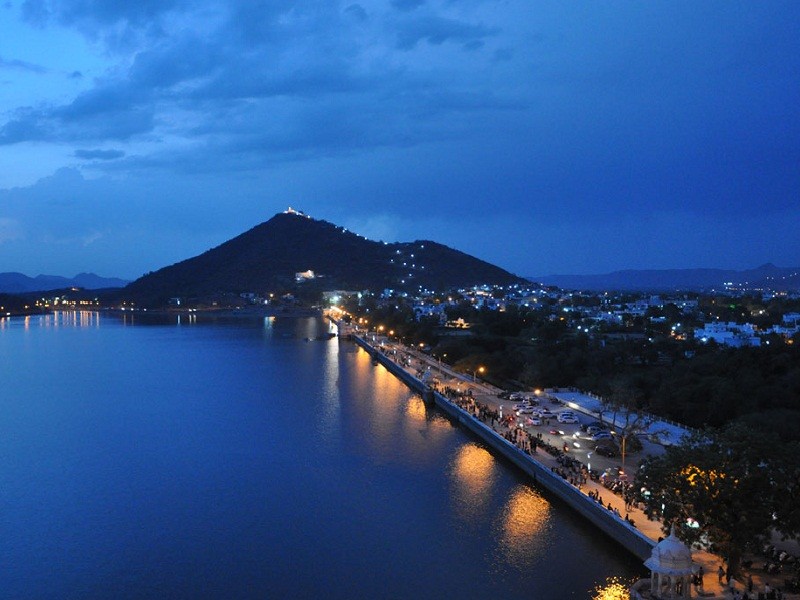 Do not forget about the Fateh Sagar Lake when doing Udaipur sightseeing. Named after Maharana Fateh Singh, this lake was constructed in the year 1680. Within Fateh Sagar, you will find three islands of which Nehru Park is the most popular. You can reach the Nehru Park by motor boats. Another island has a public park with a phenomenal water fountain. The last island has USO or Udaipur Solar Observatory.
According to the Udaipur Lake Conservation Society, one of the must visit places in Udaipur, Fateh Sagar Lake, offers employment to 55% of Rajasthan's population. It also sustains drinking water, groundwater recharge, ecological water, and agricultural and industrial usage. The flora consists of macrophytes and phytoplankton. The surroundings have scarce vegetation. You can see many species of plants along the hills and roads. The fauna in Fateh Sagar Lake include benthos, zooplankton, and fish.
Local citizens and environment conservation companies tried desilting the lake and improving the water quantity. Udaipur Lake Conservation Society, an NGO established in 1992, conducted studies on the issues of Udaipur lakes. It has been convincing government agencies to set up restoration schemes on Udaipur lakes including Fateh Sagar.
Timings: 8:00 am to 06:00 pm
Entry Fee: None
Boat Ride Fee:
Rs 30 per person for Regular Boat Ride
s 100 – Rs 200 per person for Motor Boat Ride
Rs 200 – Rs 400 per person for Speed Boat Ride
6. Doodh Talai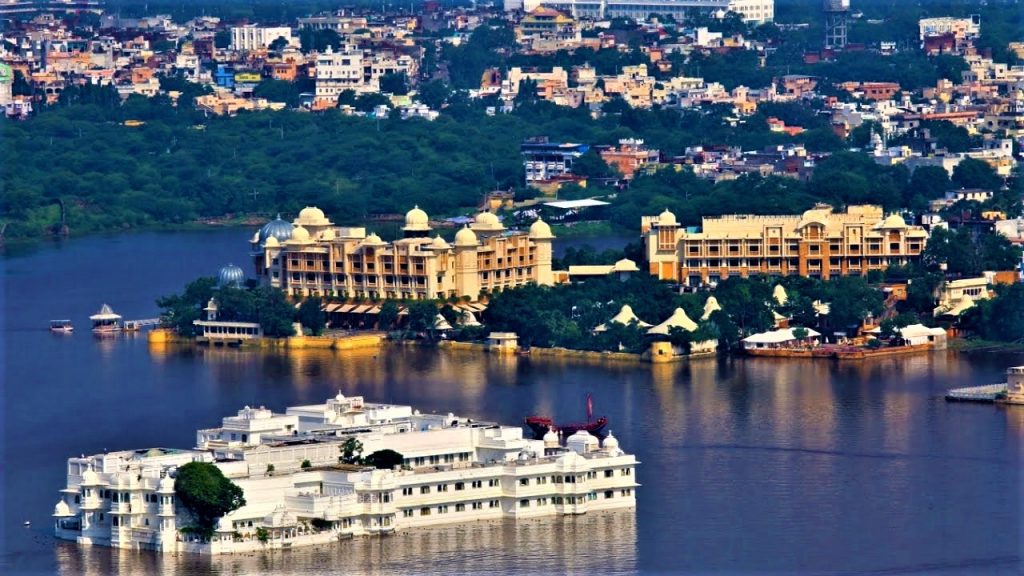 When searching online for tourist places near Udaipur, you will come across Doodh Talai innumerable times. It is a tiny pond lying next to Pichola Lake near the Palace Shiva Niwas. While Doodh Talai lake is accessible by bus, you may also take auto rickshaws, tongas, and taxis.
Doodh Talai is one of the best Udaipur places. It is covered by hillocks and it hosts Manikya Lal Verma Garden and Deen Dayal Upadhyay Park. It also offers a couple of options for fast food joints, horse and camel rides, and boat rides. You may take a ropeway from Deen Dayal to reach the Karni Mata Temple. This ropeway is the first one in Rajasthan. It is a four minute ride offering amazing views of Udaipur including Pichola Lake, Sajjangarh Fort, and City Palace.
Manikya Lal Verma Garden was built in the year 1995. You can either take the steps to reach the garden or take the road meant for vehicles. Deen Dayal Upadhyaya Park was developed by Udaipur's Urban Improvement Trust. It has a musical fountain along with a sunset point.
Timings: 08:00 am to 10:00 pm
Entry Fee: Rs. 10 per person
7. Maharana Pratap Memorial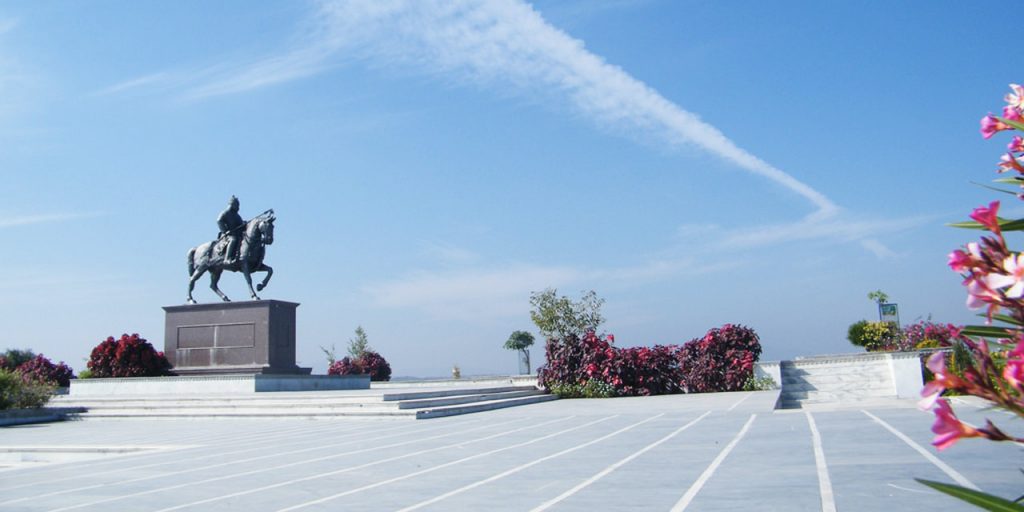 What are some things to see in Udaipur? Among the many tourist spots, Maharana Pratap Memorial impressed people the most. Noted for his gallantry and bravery, Maharana Pratap is a great warrior. He ruled Udaipur for about twenty seven years (1572 to 1597). The memorial was built for honouring Maharana Pratap's valour. Hence, there is a lifelike bronze statue of Maharana Pratap with his faithful horse, Chetak.
Lying on the top of Pearl Hill or Moti Margi, Maharana Pratap Memorial oversees the incredible beauty of Fateh Sagar Lake. The museum built alongside the Memorial has plenty of paintings. All of them portray the interesting history of Chittorgarh and Kumbhalgarh together with some instances from the Haldighati Battle. There are statues of people close to Maharana Pratap like Bhamashah, Bhilu Raja, Hakim Khan Sur, and Jhalaman.
The inside of Maharana Pratap Memorial is adorned with fragile and remarkable glasswork. A few coloured glass forms attractive imageries like that of a peacock. To reach the Memorial, please take any of the below options –
Maharana Pratap Memorial is 24 km away from Udaipur Airport. Rent a private cab.
The Memorial is 2.5 km away from Udaipur Railway Station. You can hire a taxi or an auto rickshaw to reach the destination.
Udaipur is extremely well-connected. You can take a state or private bus to Maharana Pratap Memorial, which is 5 km away from City Palace.
Timings: 09:00 am to 06:00 pm
Entry Fee:
Rs. 20 per person for Adults
Rs. 10 per person for Children
8. Vintage Car Museum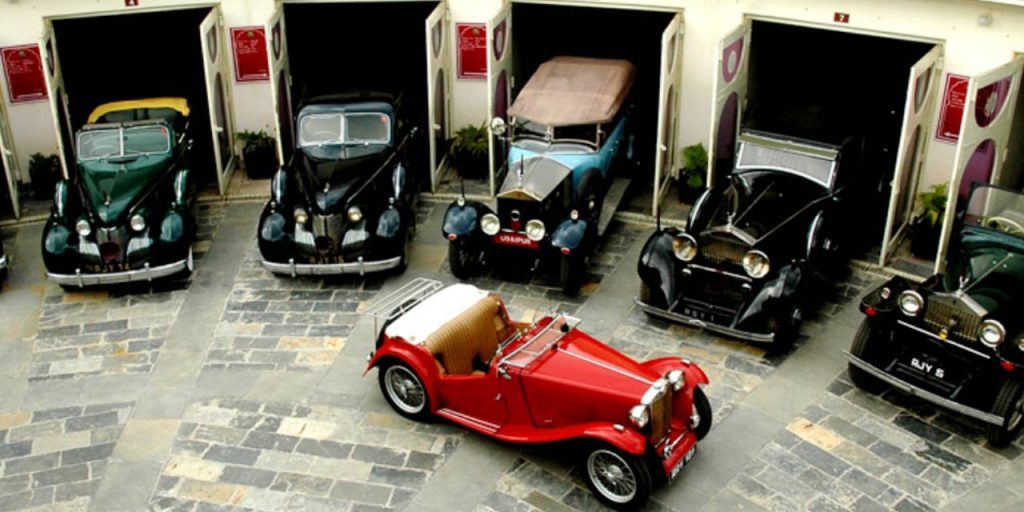 If you are looking for unique places to see in Udaipur, you cannot miss the Vintage Car Museum. It is home to twenty antique cars including Rolls Royce, Cadillacs, Mercedes, MG-TC Convertible, Vauxhall 12, and Ford A Convertible. You can also see solar operated rickshaws here.
Inaugurated in the year 2000 by the Lord Montagu of Beaulieu, the Vintage Car Museum belongs to Rana Shri Arvind Singh Ji Mewar. It is the formal property of HRH Group. The Museum opens at 9 am and closes at 9 pm. The cost of the tickets is 150 INR for kids and 250 INR for adults.
The vehicles are kept in the Motor Garage of Mewar. The garage has a semi-circular shape and its forecourt is enclosed inside a large courtyard. There is also a petrol pump but its condition is questionable. You will be awestruck to see the vehicles preserved in the most top-notch way possible. Vehicles of the 1900s are also spick and span. That's amazing, right?
Timings: 09:00 am to 09:00 pm
Entry Fee:
Rs. 250 per person for Adults
Rs. 150 per person for Children
9. Jaisamand and Rajsamand Lakes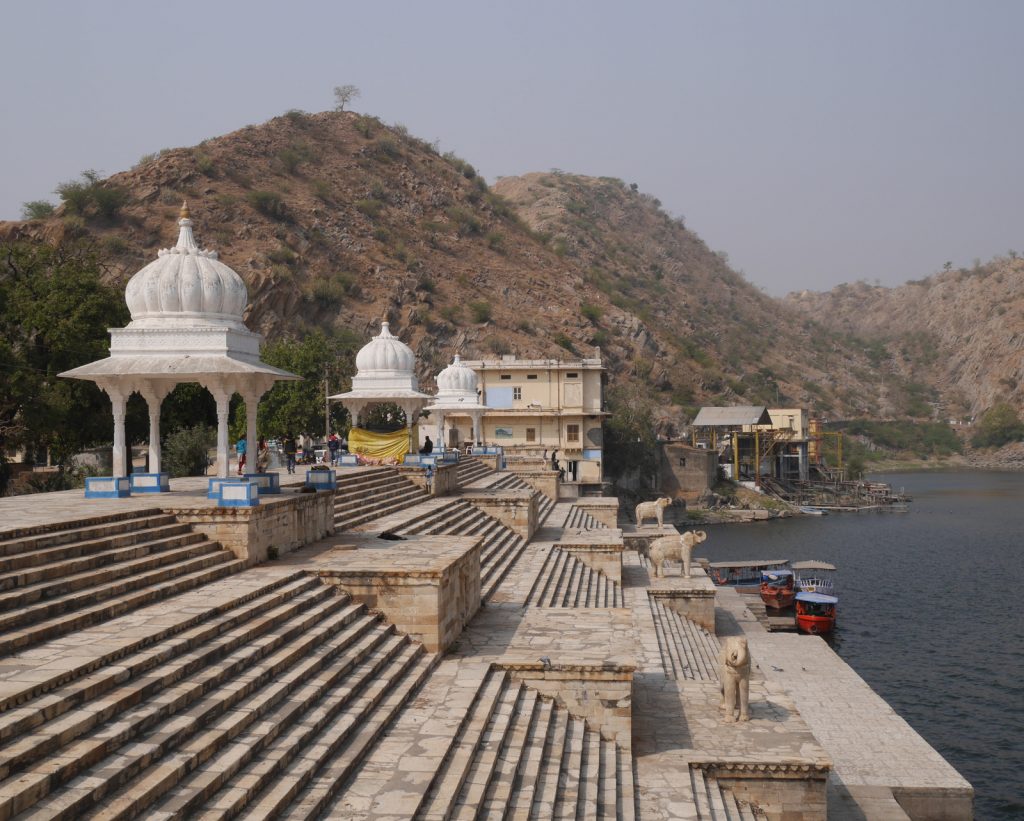 Rajsamand lake and Jaisamand lake are two other places to visit in Udaipur in 2 days.
There is no entry fee for Jaisamand Lake but you have to pay for boat rides and for visiting the Jaisamand Wildlife Sanctuary. The ticket cost are as follows –
30 INR for boat ride (Indians)
80 INR for boat ride (Foreigners)
10 INR for Jaisamand Wildlife Sanctuary (Indians)
80 INR for Jaisamand Wildlife Sanctuary (Foreigners)
Jaisamand Lake is a manmade wonder providing all forms of natural beauty. Hawa Mahal, Jaisamand Wildlife Sanctuary, Ruthi Rani ka Mahal, and Island Resort all lie in the premises. They ensure a luxurious and exquisite experience.
Jaisamand Lake sprawls over an area of 36 sq. miles. It is 14 km long, 9 km wide, and 102 feet deep. A magnificent dam is constructed on the lake. The dam has a temple of Shiva in the middle. Birds and animals from different parts of the world migrate to the Jaisamand Lake for a cosy habitat.
Please consider Rajsamand lake if you are looking for Udaipur near places. On the banks of the lake, there are nine pavilions built by Maharana Raj Singh. The pavilions are garlanded with pictures of chariots, sun, birds, Gods, and other amazing carvings. Mewar's history is engraved in over one thousand stanzas on marble slabs. This is called Rah Prasasti. It is believed to be the lengthiest etchings in India.
During the Second World War, Rajsamand Lake served as the base of Imperial Airways. During the sunset, the waters sparkle. The backdrop appears wonderful at this time. A walk along Rajsamand Lake will surely take away all your tension and stress.
Timings: All round the day
Entry Fee: None
Boat Ride Fee: Rs 30 – Rs 80 per person
10. Saheliyon ki Bari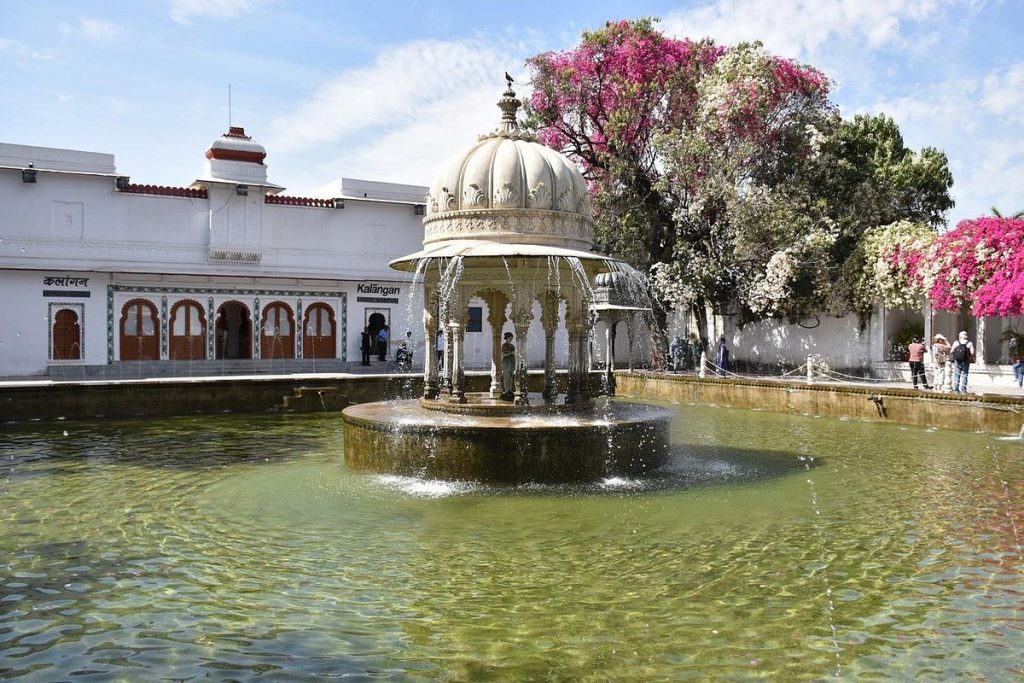 Saheliyon ki Bari or the Garden of Maidens is a popular tourist spot of Udaipur. It is located in the northern side of the city and has several kiosks, fountains, marble elephants, and a huge lotus pool. Saheliyon ki Bari was constructed by Rana Sangram Singh between 1710 and 1734 for 48 maidens.
According to legend, Rana Sangram Singh designed the garden and provided it as a gift to his queen. The queen has 48 maids. They all enjoyed pleasurable moments away from all types of political intrigues. The patterned garden is a relaxing spot for the royal ladies.
Saheliyon ki Bari is an important 18th century landmark of India. It is fully decorated with tall trees, lush green shrubs, and fairy-tale-like castles. The Patio Nursery has two colossal springs. One stroll through the garden will help you unwind. As mentioned above, they were once only accessible by empress women, today common people can also visit the garden.
This tourist spot is 25 km away from Udaipur airport. The railway station is just a mile away. You can easily rent a rickshaw or cab. Saheliyon ki Bari is open from 8 am to 5 pm.
Timings: 9:00 am – 07:00 pm (Everyday)
Entry Fee: Rs. 5 per person
Final Thoughts
Since now you know all about the major Udaipur attractions, please keep in mind a few tips before planning a vacation in the 'City of Lakes'.
Winter is perhaps the perfect season to visit Udaipur. The weather is incredibly pleasant from September to February. Although Udaipur is extremely safe, it is best to not walk alone after 8 pm. People going solo must carry GPS, maps, and signboards. Keep cash handy to experience the local culture without any hassle. Always appoint licensed guides to explore the beauty of Udaipur. For travel tickets, rely on authorised dealers only.
To enjoy Udaipur's famous places seamlessly, please choose an accommodation as cautiously as possible. Opt for a palace hotel if you have a flexible budget. Go for a budget hotel along the lake if you wish to experience Udaipur at its best. Solo travellers can book a homestay or hostel. There they can enjoy authentic Rajasthani cuisine. You can live in a heritage villa by the jungle or lake to get exceptional views of wildlife and nature.
Besides taking a trip to Udaipur's best places, please relish local foods like Daal Bati Churma, Kachori, Dabeli, Jalebi, and Chaat. You can order Rajasthani thali at restaurants that offer both non-vegetarian and vegetarian options. Enjoy Thandai, the conventional Rajasthani drink, available in all eating joints.
If you are passionate about royalty, Udaipur is the perfect holiday destination for you. Be it the gentry Rajasthani lifestyle, the delicious Rajasthani food, or the beautiful lakes, this city has it all. Each aspect of Udaipur is deeply embedded in Rajputana history and traditions. For the most memorable experience of your life, please book your tickets now.