"Delhi – one of the busiest cities in India, with several historical monuments. Whether you want to visit Delhi without any purpose, once you reach there, you will definitely find several purposes to stay. It is known as one of the biggest tourist places in India that holds historical importance."
The magnificent mixture of culture, history, cuisine, commerce, and street life of Delhi keeps the visitors engaged throughout. Any new visitor will be overwhelmed by the chaos in the city, but it can gradually keep you calm with the extraordinary tourist places to visit near delhi. The breathtaking history that each of these monuments whole Will let you take a tour of the Past.
This city does not only hold one, but there are 3 UNESCO world Heritage sites present within it. You definitely have come across several historical attractions, but Delhi has something to really blow your mind with its historic grandeur. Apart from Delhi's famous places, you will never have an empty stomach due to the delicacies found in the food stalls and shops. You will be able to enjoy the historical monuments; you can also pamper the taste bud with delicacies of Delhi. With many other things to do in Delhi, you will enjoy every moment on this tour.
So, let us find some of the best places to visit in Delhi and what Delhi has in its bucket to explore.
Top 15 places to visit in Delhi
1. India Gate: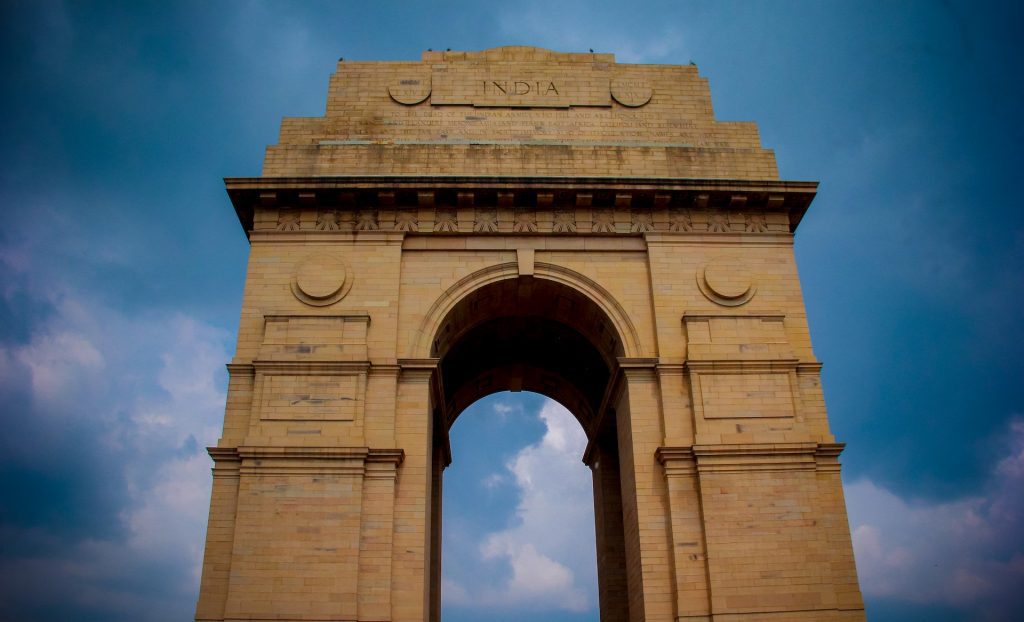 When you're coming to Delhi, you cannot miss India Gate. It is one of the most common places to visit near delhi. The original name of India gate was the All India war Memorial which was initially billed to commemorate 82,000 soldiers who gave up their lives during the first world war that happened from 1914 to 1921.
India Gate is situated on the eastern side of Delhi, which was formerly known as Kingsway. The amazing architecture of this famous arc looks like "The Arch of Constantine," and it is also compared to The Gateway of India in Mumbai. Sir Edwin Lutyens is the designer of this historical monument. It is one of the fantastic places to visit in New Delhi.
Its construction started in 1921 and was completed by 1931. The one every year, on 26 January, for the Republic Day parade or India Gate parade, which is one of the most prestigious events in India, happens in India Gate.
Timings: 24 hours a day, seven days a week
Nearest Metro Station: Central Secretariat, New Delhi
2. Humayun's Tomb: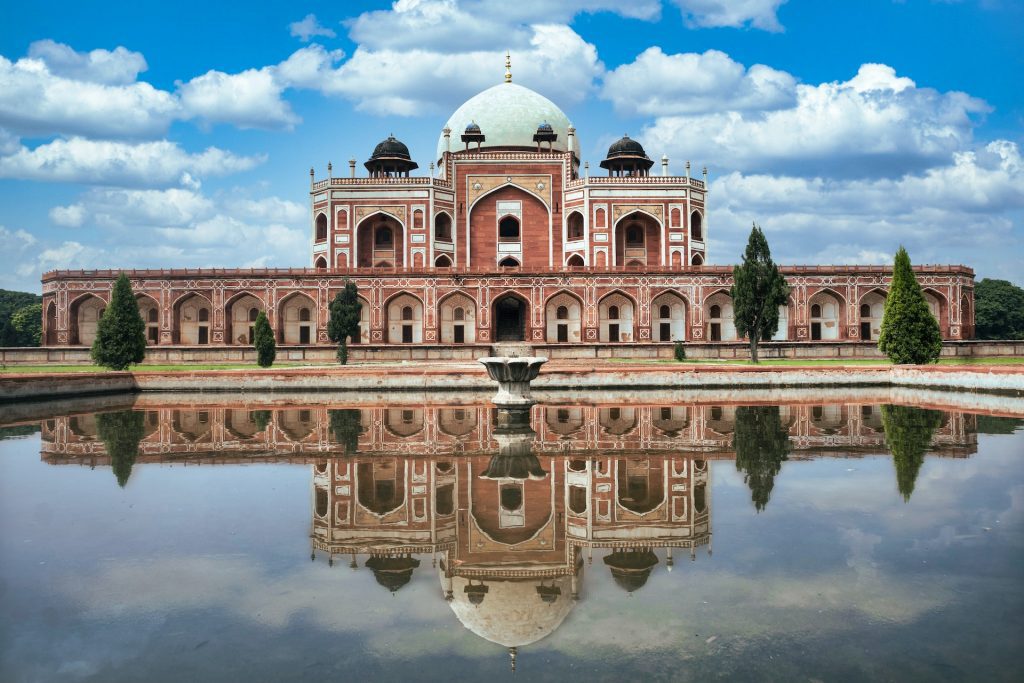 Humayun's Tomb or Maqbara A Humayun is again a historical site and one of the most known tourist places near Delhi in its North. This Tomb belongs to a famous Mughal emperor called Humayun. The unique design of this Tomb was made by Mira Mirza Ghiyas, who was the only partial architect brought by Bega Begum. This Tomb is located in the Nizamuddin East and is known as the very first Garden Tom available on the Indian subcontinent.
It was initially declared a World Heritage site by UNESCO in the year 1993. Since then, it got a reputation and started flourishing. After that, this historical Tomb has gone through several installations. You will also find many smaller monuments available near this Tomb, which was built prior to the Humayun tomb. The complex accommodates the main Tomb along with the graves of Dara Shikoh, Hamida Begum Begum Begum along with other Mughal members.
This monument symbolizes the symbiosis between Humayun and Bega Begum. His wife grieved so much over her husband's death that she decided to create an astonishing remembrance in the form of architecture. The way this entire monument was made with red sandstone and included white marble. You must not miss a chance to visit the architecture in your tourism in Delhi.
Timings: 6:00 am to 6:00 pm
Entry Fee: INR 30 (Indians); INR 500 (foreign nationals)
Nearest Metro Station: Jor Bagh, New Delhi
3. Hauz Khas: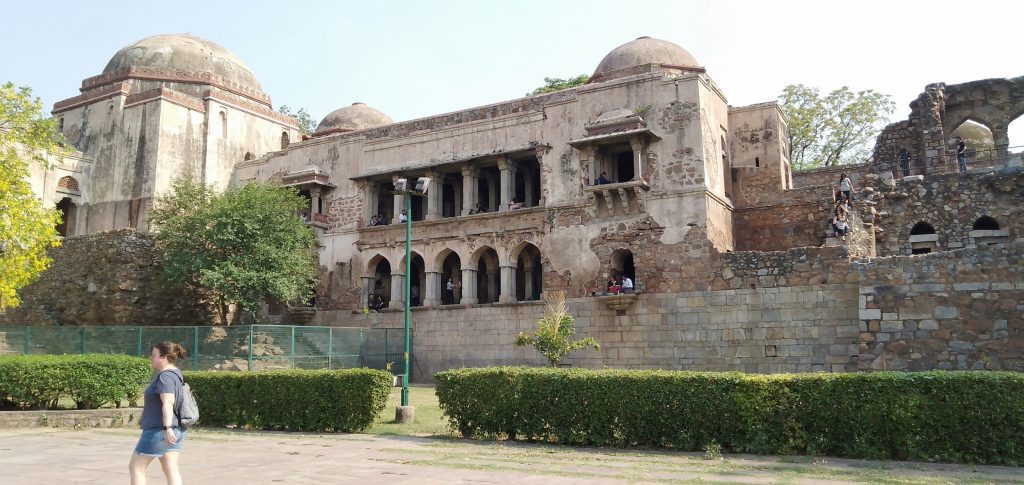 If you come to South Delhi, Hauz Khas is definitely something that you need to visit. It is again one of the most common tourist places near Delhi. It is known to be historically crucially complex. It shows both urban and rural atmospheres and is also popular as mehak ka Chota quila. It has a location surrounded by a green park on its west and on the north and has Gulmohar Park.
The name of this architecture started getting appreciation from other worlds due to its presence of ancient water reserves of the same name. In Urdu, HAUZ means water, and Khas means Royal. Therefore, it is also known as the Royal tank. Alauddin Khilji initially made it to supply water for the Siri Fort inhabitants, and after the 1960s, it was then again developed by the famous builder DLF in India.It has always been in the Delhi tourist places list.
It is also a place where you can have an amazing Time. You can find village clubs, pubs, restaurants, cafes and several other interesting points for visitors. It is very easy to connect from any other part of Delhi, and hence this should be on your list when you visit Delhi's famous places.
Timings: Most of the restaurants and pubs remain open till midnight
Nearest Metro Station: Hauz Khas, New Delhi
4. Qutub Minar: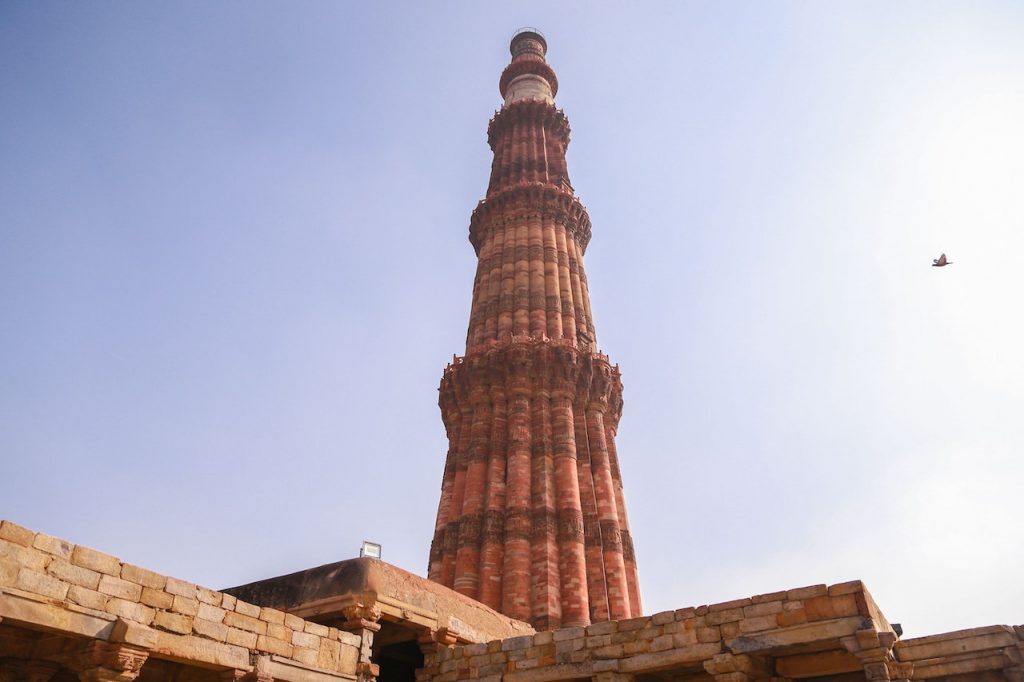 Qutub Minar is again a protected and valuable structure in Delhi. It is considered to be extremely crucial in terms of historical attraction in India. It is also declared a UNESCO World Heritage site and is one of the renowned tourist places near Delhi airport. The structure is present in the Mehrauli area in Delhi. You will also find a metro station named Qutub Minar that is located at a distance of only 3 km from this amazing architectural brilliance. 
The structure is constructed with red sandstone along with marble and has a height of 73 m. It has a tower-like structure with five stories with a diameter of 14.3 m on the base, which gets 2.7 m to the top. Another most astonishing feature of this architectural brilliance is the spiral staircase that has 379 steps. According to many historians, it says that the design of this tower is inspired by the Minaret of Jam situated in western Afghanistan.
The unique and amazing tower structure resembles the architectural style of Iran. Some of the artistic conventions like guidelines, looped bells, and lotuses are simply unique and amazing. The amazing structure is open to visit any time in the day between sunrise and sunset. Don't forget to include this in the list of famous places to visit in Delhi.
Timings: 7:00 am to 5:00 pm
Entry Fee: INR 30 (Indians); INR 500 (foreign nationals)
Nearest Metro Station: Qutub Minar metro station, New Delhi
5. Lotus Temple (Bahai Temple)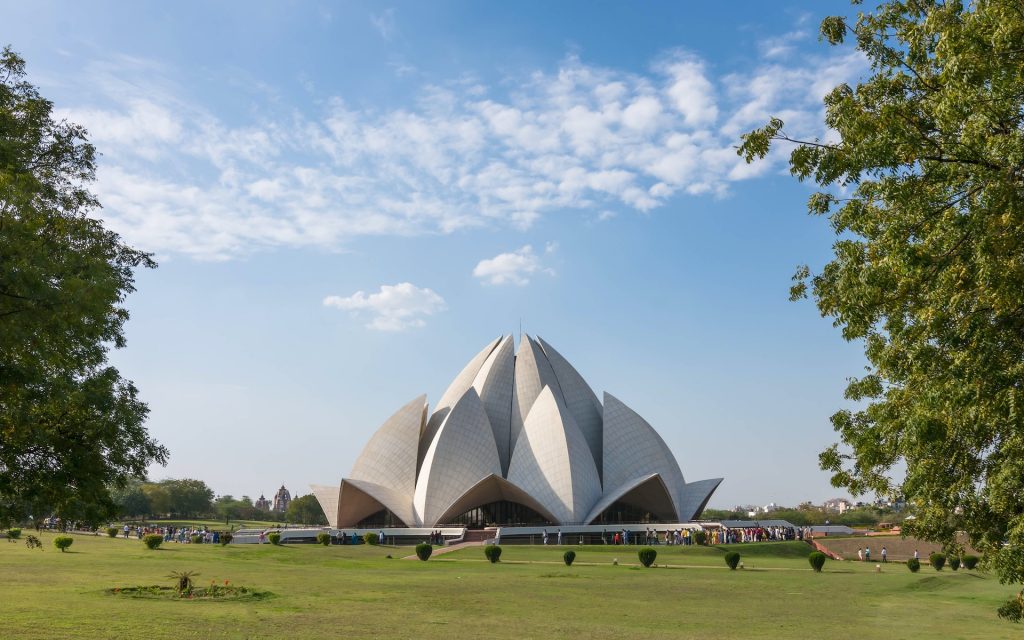 People searching online for places to visit tourist places in south Delhi must have come across the Lotus Temple. This magnificent Worship House has nine sides and a beautiful central dome. Constructed of white marble and concrete, the architectural masterpiece looks as fragile as the lotus flower. The Lotus Temple looks like it will burst into bloom.
Built in the year 1986, the Lotus Temple has attracted around seventy million visitors from all across the globe since then. Although a temple, the Lotus temple has no religious pictures, idols, or symbols of any particular religion.
While almost all emperors constructed monuments to idolize themselves or their faiths, the Lotus Temple, on the contrary, has an exclusive purpose. It stands for all the things that individuals of Baha'i faith believe in. You do not have to pay any entry fee. Even though the temple can be visited all year, opt for the winter season since the weather remains favourable.
Timings: 9:00 am to 5:00 pm
Nearest Metro Station: Kalkaji Mandir, New Delhi
6. The Red Fort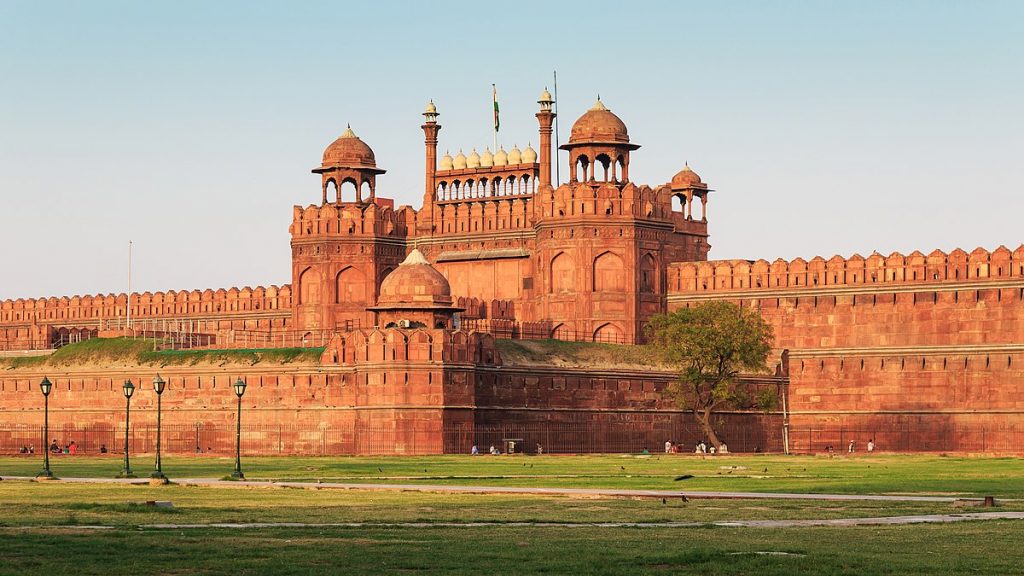 Shah Jahan constructed the Red Fort or Laal Quila in the year 1648, and it acted as the seat of the Mughal emperors till 1857. This phenomenal structure is one of the most popular Delhi tourist places.The tall sandstone walls of red color encompasses an area of around 2 sq. km.
The main entrance of the Red Fort is called 'Lahore Gate' because it faces in the direction of Lahore. Through it, visitors reach the Chhatta Chowk, a bazaar where silverware, gems, jewelry, and silks are sold. The outstanding 'Delhi Gate' was utilized by the emperor for ritualistic processions.
The Naubat Khana inside the fort once accommodated renowned musicians. The galleries still now contain fascinating instruments such as gongs, kettledrums, and cymbals. The Hall of Public Audiences or Diwan-i-Am made of white marble is also worth paying a visit to.
To see the Red Fort, you should book a full-day tour of New and Old Delhi.
Timings: 09:30 am to 04:30 pm (closed on Mondays)
Entry Fee: INR 35 (Indian citizens) and INR 500 (foreign nationals)
Nearest Metro Station: Chandni Chowk, New Delhi
7. Lodi Gardens
Lodi Gardens is one of the best parks of New Delhi. Covering an area of 90 acres, it contains a wide range of relics from the Lodi Period (early 1600s) including significant tombs. When visiting the Lodi Gardens, please take a walk to Khan Market. It includes well-known shopping complexes along with street vendors.
From among all the places to visit in Delhi, Lodi Gardens has acquired the most recognition. It has a variety of fauna and flora after all. You can admire a hundred species of native trees, around fifty species of butterflies, and several birds.
Lodi Gardens has architectural highlights that date back to the fifteenth century – mausoleums have the remnants of Lodi Sultans along with a picturesque mosque. Also look out for Athpula, an eight pier bridge of the 16th century. It has multiple visually appealing arches and columns.
Timings: 
Entry Fee: 
Nearest Metro Station: 
8. Jama Masjid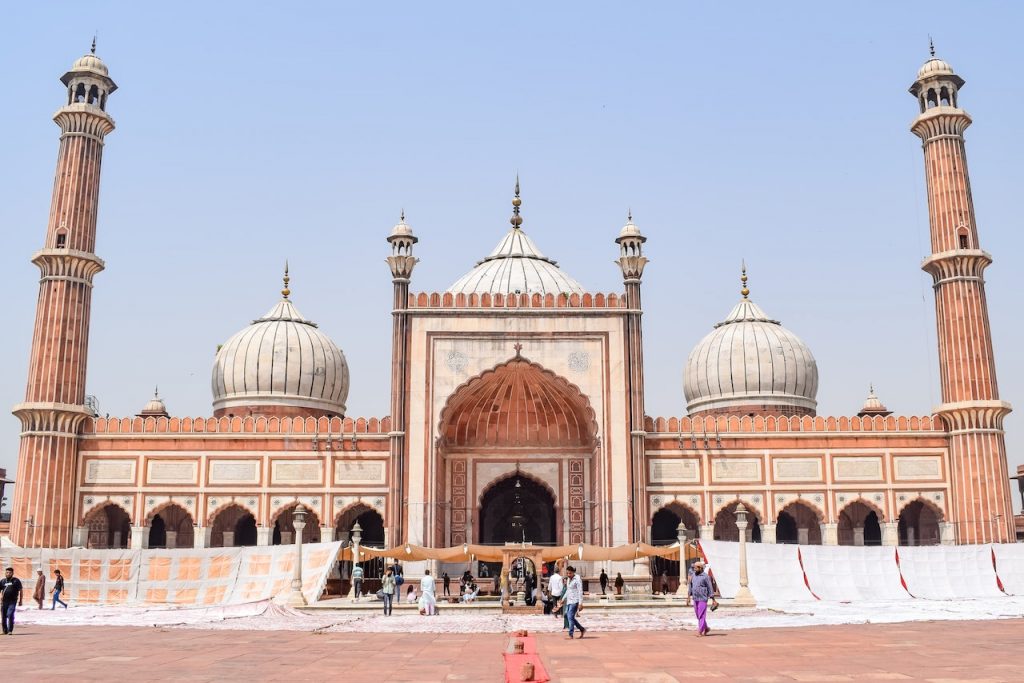 Jama Masjid is perhaps one of the best places to visit in Delhi. It was the final achievement of Shah Jahan in terms of architecture. Completed in the year 1658, Jama Masjid has four angular towers, three entrances, and two minarets. The minarets are about forty meter high and built of white marble and red sandstone. The materials are arranged alternatively in vertical stripes.
People can climb to the top of the minaret lying on the southern side for breathtaking views of Old Delhi. You need to take your shoes off before entering. Also, please dress properly. Non-Muslims are not allowed inside during prayers.
Later, you can go to Chandni Chowk, the massive market of Old Delhi. Of unique interest are Gadodial and Naya Bazaar. Purchase chutneys, pickles, lotus seeds, pomegranate, saffron, ginger, and aniseed from the spice market.
Timings: 7:00 am to 12:00 pm, 1:30 pm to 6:30 pm
Nearest Metro Station: Jama Masjid, New Delhi
9. Akshardham
Include Akshardham in the list of Delhi famous places. Even though completed recently and opened in 2007, the Akshardham looks centuries old. Garlanded with complex carvings, Akshardham attracts innumerable visitors for its majestic appeal.
Some of the highlights are the beautiful forty-three meter high monument with enriching carvings of plants, animals, musicians, and dancers, all manufactured of pink marble and sandstone. There are about 234 ornamental pillars supporting nine domes and a striking stone honouring elephants.
Some other interesting features of Akshardham Are as follows –
A theater displaying a film outlining the construction of the building
An entertaining fifteen minute boat ride portraying India's culture and history
An enormous Yagnapurush Kund
A huge musical fountain that lights up at night
Timings: 10:00 am to 06:30 pm (Closed on Monday)
Entry Fee: Free
Nearest Metro Station: Akshardham, New Delhi
10. Purana Qila (The Old Fort)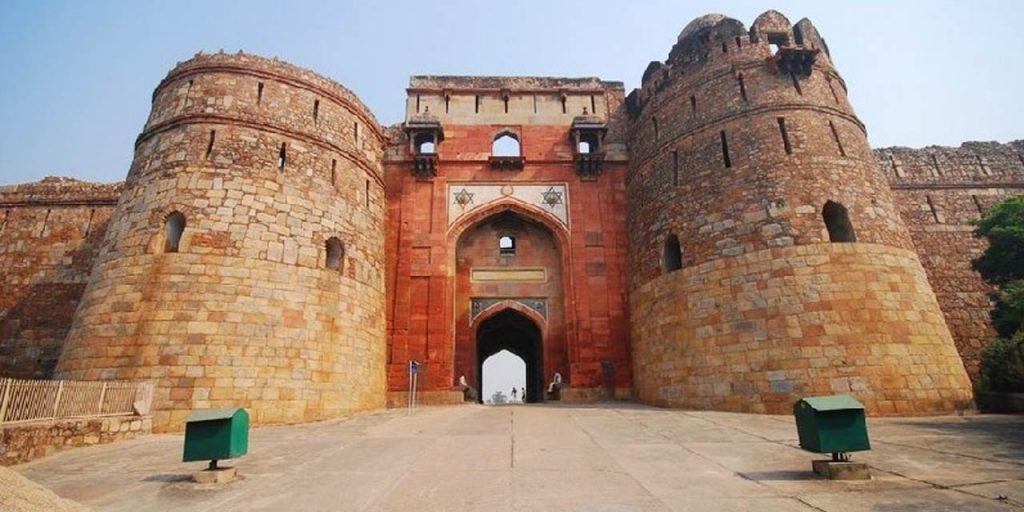 Visiting Purana Qila or the Old Fort is one of the top things to do in Delhi. Even though usually overlooked, since all tourists generally head out for the Red Fort, Purana Qila requires a place in your itinerary. The fort is proud of a past that stretches back approximately 2500 years. Some of the current inspiring edifice dates back to the 1500s.
Purana Qila is one of the best places in Delhi. Its structure played a significant role in the overall region's affairs and was specifically influenced by the Muslim religion. The site covers an area of 2 sq. km, and you will certainly enjoy exploring its parapets and gates – a stunning sight during nightly illuminations.
The Mehrauli Archaeological Park is also worth visiting. It features several structures, a couple of which date back around a thousand years.
Timings:  7:00 AM to 5:00 PM every day
Entrance Fee: Indians – ₹30, Non-Indians – ₹500
Nearest Metro Station: Indraprastha Metro Station
11. Rajpath & Rashtrapati Bhavan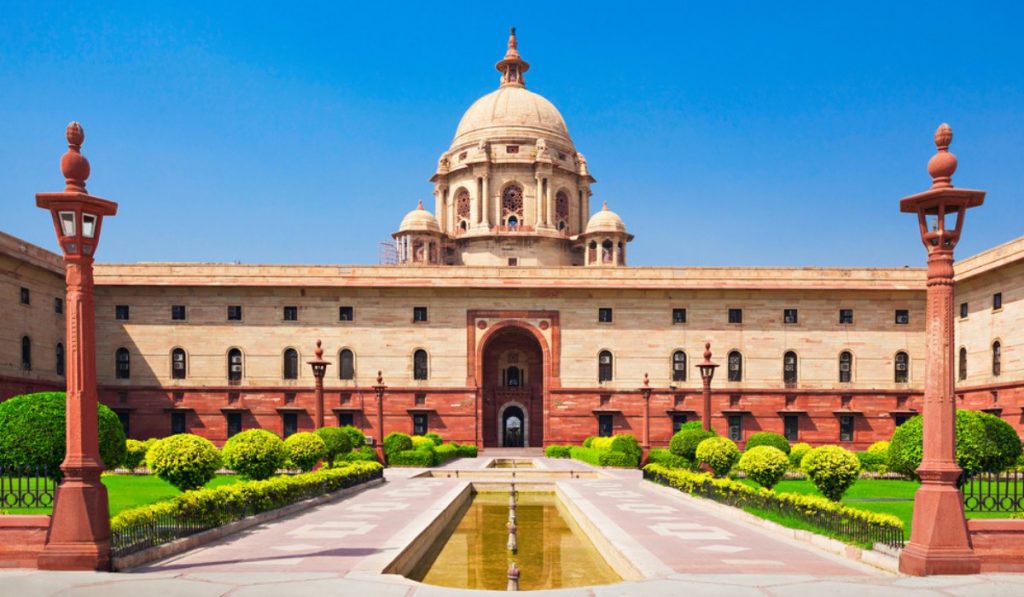 From among the tourist places near Delhi, Rajpath and Rashtrapati Bhavan is a must visit. Also called the King's Way, Rajpath, is considered a conventional ceremonial boulevard of New Delhi. It runs from the Rashtrapati Bhavan, the formal presidential property, past important landmarks like India Gate, Vijay Chowk, and National Stadium.
If you are checking out the list for tourism in Delhi, you will surely find Rajpath and Rashtrapati Bhavan. The avenue is covered with grass, ponds, trees, and it comes alive on January 26th, Republic Day. The Rashtrapati Bhavan is no doubt a magnificent building. It is the best place for photographs given the extensive mix of European and Mughal architectural styles.
Of recent interest is the Rashtrapati Bhavan Museum. It provides a peek into the displays of past presidents. If you are visiting these places near Delhi, please do so in February or March. Then you can check out the Mughal Gardens. The spectacular display of plantations will mesmerise you.
Timings: 9:30 am to 5:30 pm
Circuit 1: Open on Thursday-Sunday
Circuit 2: Open on all days except Monday
Circuit 3: Open on Thursday-Sunday (November-March)
Entry Charges: INR 50
Nearest Metro Station: Central Secretariat, New Delhi
12. Jantar Mantar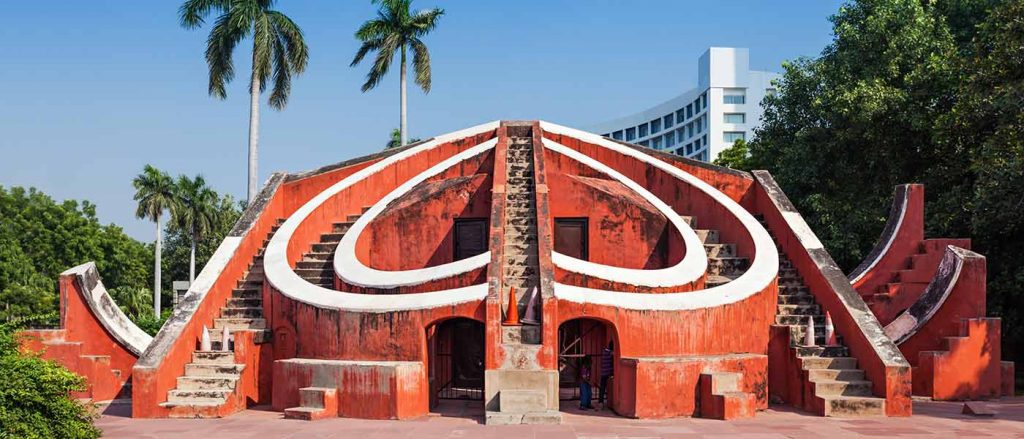 Jantar Mantar is one of the Delhi best places.Lying near the Connaught Palace (CP) – Delhi's largest and best business districts – Jantar Mantar was constructed in 1725 by Maharaja Jai Singh.
If you are looking for places to visit in New Delhi, Jantar Mantar is the best astronomical observatory. Here, visitors can observe the motion of the moon, sun, and planets. This historic site also features many ancient instruments that were once utilized for tracking the route of heavenly bodies and predicting eclipses. The four main instruments are –
· Misra Yantra assesses the longest and shortest days of a year. It is also used for noting the time of noon in various cities of the world.
· Samrat Yantra predicts the declination of different celestial bodies.
· Rama Yantra measures a planet's altitude.
· Jaiprakash Yantra calculates and verifies the readings of the other instruments.
Jantar Mantar is one of the best places to see in Delhi. The visiting hours are from 9:30 am to 5:30 pm. It remains open all days of the week. The easiest way to reach the observatory is by taking city buses or a metro running to Central Delhi.
Timings: 9:00 AM to 7:00 PM on all days
Entrance Fee: Indians – ₹5
Non-Indians – ₹100
Nearest Metro Station: Rajiv Chowk Metro Station
13. Laxminarayan Temple
When preparing the Delhi tourist places list, please include Laxminarayan Temple. Also known as Birla Mandir, it is one of the spots that people have been exploring. Laxminarayan Temple was built in Connaught Palace in the year 1939. It pays tribute to Laxmi, the goddess of prosperity. There are shrines dedicated to other faiths. This is a condition imposed by Mahatma Gandhi.
Spread across an area of almost eight acres, you will love walking on the grounds. They are decorated with luscious tropical gardens, pretty sculptures, and remarkable fountains. Among all New Delhi tourist places, people prefer Laxminarayan Temple because it exemplifies a special amalgamation of fort and temple architecture. It is built of bricks and lime mortar, and has canon slots on the roof.
Timings: 4:30 AM to 1:00 PM and 2:30 PM to 9:00 PM, every day
Entry Fee: N/A
Nearest Metro Station: RK Ashram Marg Metro Station
14. Indira Gandhi Memorial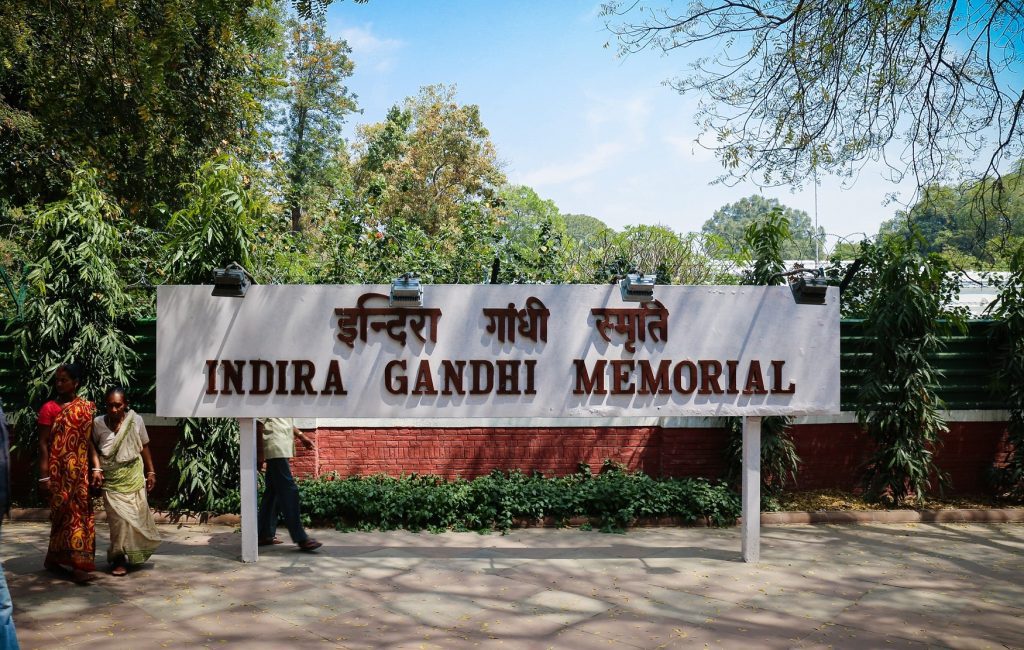 Indira Gandhi Memorial is one of the best places to visit near Delhi. It once housed Indira Gandhi, India's former and late Prime Minister. The memorial is also where Indira Gandhi was assassinated in 1984. After her death, the property was turned into a museum. It now displays a wide range of amazing artifacts and memorabilia that belonged to Indira Gandhi.
Some of the collections are the saree Indira Gandhi wore when she died and rare pictures of her life and childhood. The memorial also displays awards and personal items of Rajiv Gandhi. It also contains the newspaper clips of the funeral pyres. Apart from this, the presents Indira Gandhi got from various people throughout the world are on display.
If you wish to know about Indira Gandhi, the iron lady of India, and get inspired by her, please visit the Memorial under all circumstances.
Timings: 9:30 AM to 4:45 PM (Closed on Monday)
Entrance fee: N/A
Nearest Metro Station: INA Metro Station
15. Connaught Place
Connaught place, also popular as CP is one of the biggest financial centers and commercial centers in New Delhi. With a lot of historical places, Connaught Place is a place where you can do multiple things. The name cannot have been provided post Duke of Connaught. With some of the popular restaurants, food chains, bars and stores, you will never get bored at this populated place of Delhi.
Besides, CP provides you ample opportunities to market, it also hosts some of the well known colonial buildings. The contemporary art buildings, and antique theaters mark the major benchmark of the place. Unlike all the other places in Delhi where you get a historical backdrop, CP brings you close to the throbs of Delhi.
If you want to know about the things to do in Delhi, you need to plan a visit to CP. The bustling nightlife in this part of the city with lounges, sports bars, pubs and others always keep you on your toes. So, in your visit to Delhi, make sure that you have CP added to enjoy the nightlife in Delhi.
Timings: All time open
Entrance fee: N/A
Nearest Metro Station: Rajiv chowk
Conclusion: While there are several other amazing architectural brilliance in Delhi, these are some of the top historical monuments that you must check on your visit. You can remain assured that Delhi will always keep you on your toes magnificently. So take a glance at the tourist places near Delhi and enjoy the historical ride.