Selecting the perfect gym t-shirt is essential for any woman looking to feel comfortable and confident during her workout sessions. The right t-shirt can enhance your performance and boost your self-esteem. However, with the wide range of options available in the market, choosing the ideal gym t-shirt that complements your body type can be challenging. This article will provide you with a detailed guide on how to select the perfect women's gym t-shirt based on your body type. Whether you're curvy, athletic, or petite, we've got you covered. Read on to discover tips and tricks that will help you find the perfect gym t-shirt that not only fits well but also flatters your figure.
I. Understanding Body Types
Before diving into the specifics of selecting a gym t-shirt, it's crucial to understand the different body types. Here are four common body types:
Hourglass: The hourglass body type is characterized by well-defined curves with a narrow waist and proportionate bust and hips.
Apple: The apple body type typically carries weight around the midsection, with a fuller bust and narrower hips.
Pear: The pear body type has a smaller upper body and wider hips and thighs.
Athletic: The athletic body type is characterized by broader shoulders, well-defined muscles, and minimal curves.
II. Choosing the Right Fit 
Hourglass Body Type:
Opt for a fitted t-shirt that accentuates your waist without being too tight.
V-neck or scoop-neck styles can flatter your bust.
Avoid loose or baggy t-shirts that hide your curves.
Apple Body Type:
Look for t-shirts with a slightly loose fit around the midsection.
Choose styles with empire waistlines or A-line cuts to create a balanced silhouette.
Avoid clingy fabrics or tight t-shirts that emphasize the midsection.
Pear Body Type:
Opt for t-shirts with a looser fit around the hips and thighs.
Look for t-shirts with details, patterns, or embellishments around the bust and shoulders to draw attention upwards.
Avoid t-shirts that are too tight around the hips or cling to the lower body.
Athletic Body Type:
Choose t-shirts with a more relaxed fit to provide freedom of movement.
Look for styles with feminine details, such as ruching or cutouts, to add curves.
Avoid boxy or overly loose t-shirts that may hide your athletic physique.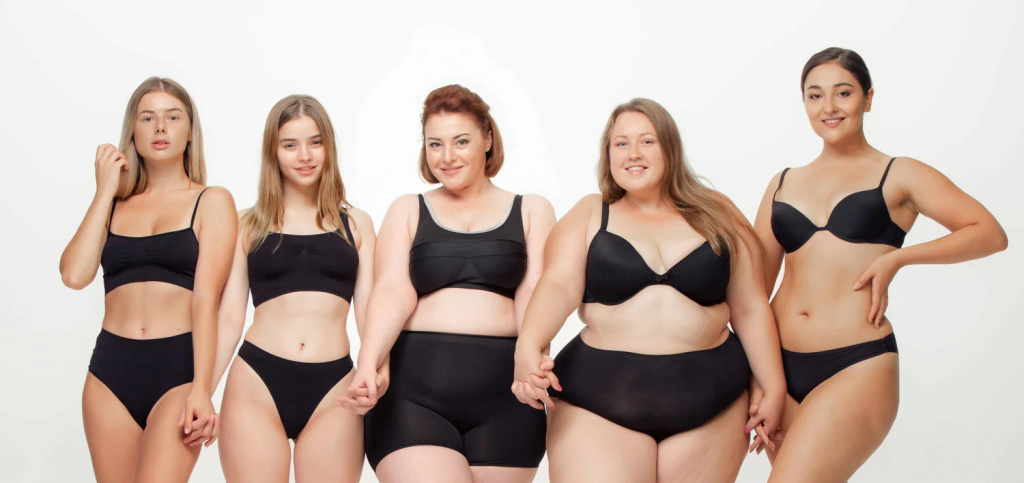 III. Considerations for Length, Neckline, and Sleeve Style
Length:
For hourglass and apple body types, opt for t-shirts that hit just below the hip to create balance.
For pear and athletic body types, choose longer t-shirts that cover the hips and add more proportion to the body.
Neckline:
V-neck or scoop-neck styles are generally flattering for all body types as they elongate the neck and draw attention upwards.
Avoid high-neck or crew-neck t-shirts if you have a shorter neck or a fuller bust.
Sleeve Style:
Cap sleeves or short sleeves work well for hourglass and apple body types as they emphasize the shoulders.
Pear and athletic body types can opt for sleeveless or tank top styles to showcase their arms and shoulders.
IV. Choosing the Right Fabric and Color
Fabric:
Look for moisture-wicking and breathable fabrics, such as polyester blends or bamboo, to keep you cool and comfortable during workouts.
Avoid heavy fabrics that don't allow for proper ventilation.
Color:
Dark-colored t-shirts are generally more flattering and can create a slimming effect.
Experiment with bold and bright colors to add a pop of personality to your gym attire.
Avoid light-colored t-shirts if you're self-conscious about sweat stains.
Conclusion
Selecting the perfect women's gym t-shirt can greatly enhance your workout experience. By understanding your body type and following the tips outlined in this article, you'll be able to find a t-shirt that fits well, flatters your figure, and boosts your confidence. Remember to consider factors like fit, length, neckline, sleeve style, fabric, and color when making your selection. With the right gym t-shirt, you'll not only look great but also feel comfortable and motivated to achieve your fitness goals.