You dropping on this page seems like you are looking for an elegant engagement hairstyle for the special day. We all understand that it is one of the memorable days in your life when you would want to look pretty much amazing. And when it comes to looking beautiful, women need to make fantastic hairdos with their elegant costumes.
Whether you have fine hair or not, it is very easy to create any hairstyle these days. However, it is mandatory for you to choose a hairstyle according to the jewelry and makeup of your choice. Remember that the perfect combination will certainly make you look like a princess in real life.
Even when you choose a really fabulous dress like a lehenga, and if the hair is not proper, it will snatch the overall glam of the look. So it is better to decide on the perfect hairstyle for your engagement day beforehand. While most brides choose stylish hair buns, there are several other options, like ponytails and braids. Undeniably buns are timeless beauty; there are several other beautiful hairstyles that you can also opt for.
So, let us check out some of the best hairstyles for your special day that will make you look even more elegant.
1 Open curl hairstyle
You can choose to leave open hair as it looks simply elegant when you pair it with your lehengas. You can also wear any dress and decide to go for the loose curls on a very special engagement day. It would be great if you had long hair as this open hairstyle with gown makes the bride look extremely elegant and lustrous. You have to make a middle part of your hair and adequately curl it to make it look gorgeous on you.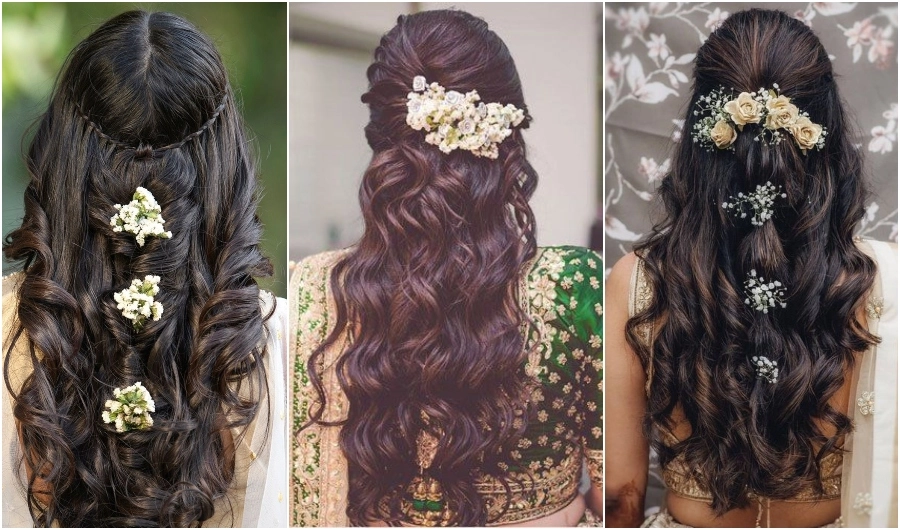 2 Crown hairstyle
A crown braid hairstyle is a classic look where there is a little puff which takes the entire look to a different level. As it is a simple braided hairstyle but has never gone out of fashion, you can add accessories to it and make it look even more appealing. Generally, after the end of the braids, you can create elegant loose curls and leave the hair open. Curling hair makes it look even more beautifully flowing together. Make sure to add floral accessories under the crown braid to make the hairstyle look stunning.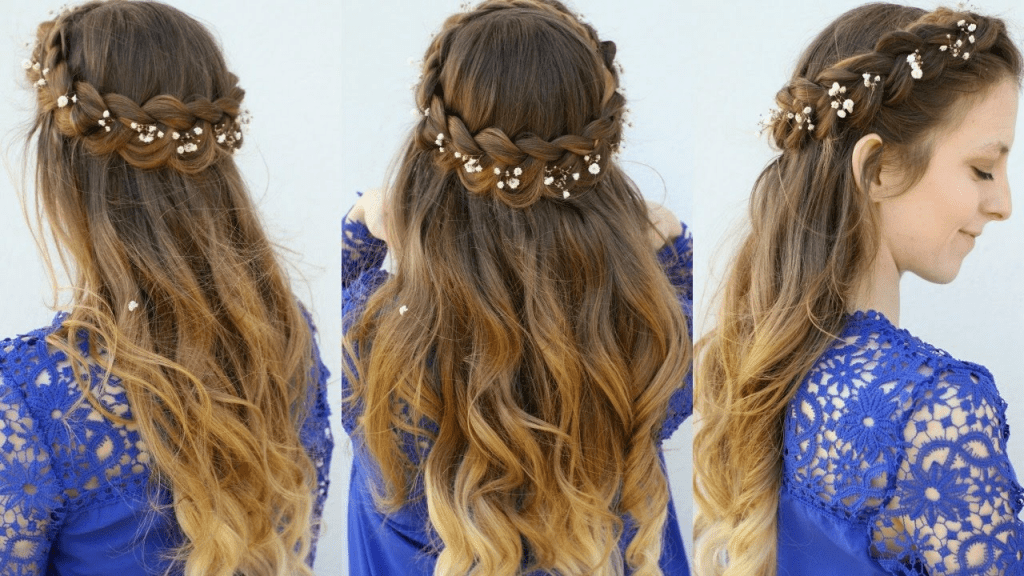 3 – A floral bun
For the best party Lehenga hairstyle, you have to make sure you choose the right one according to your look. So, you can go for the floral one, which is extremely eye-pleasing but is hard to create. It is a fantastic combination of creating a bun while keeping as many loose strands as possible. Make sure you use flowers and pearls on your hair to accessorize the bun and make it look surreal.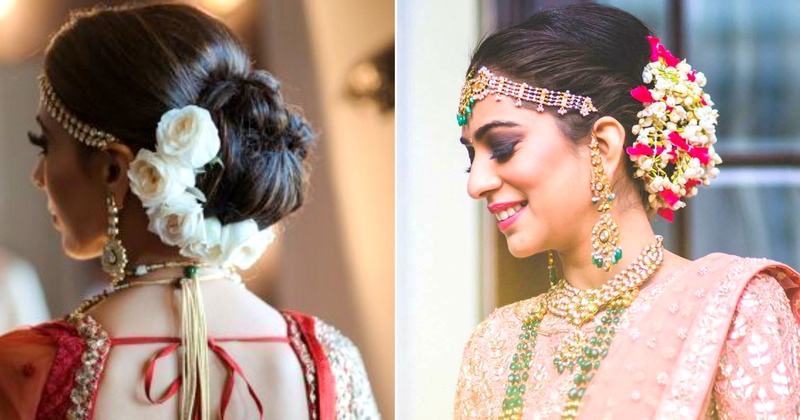 4 – A Curly Bun
If you have short hair and you are thinking about the best hairstyle that you can do for your engagement day, how about a simple curly bun? Even when it has been years since almost every bride chooses buns, it is never out of fashion. This curly bun is simply a show-stopper that has every pinch of elegance in it. It is a simple messy bun where small strands of hair are kept loose in front, whereas the bun is created in a very chaotic way. It gives a stunning hairstyle with sophisticated touch in it.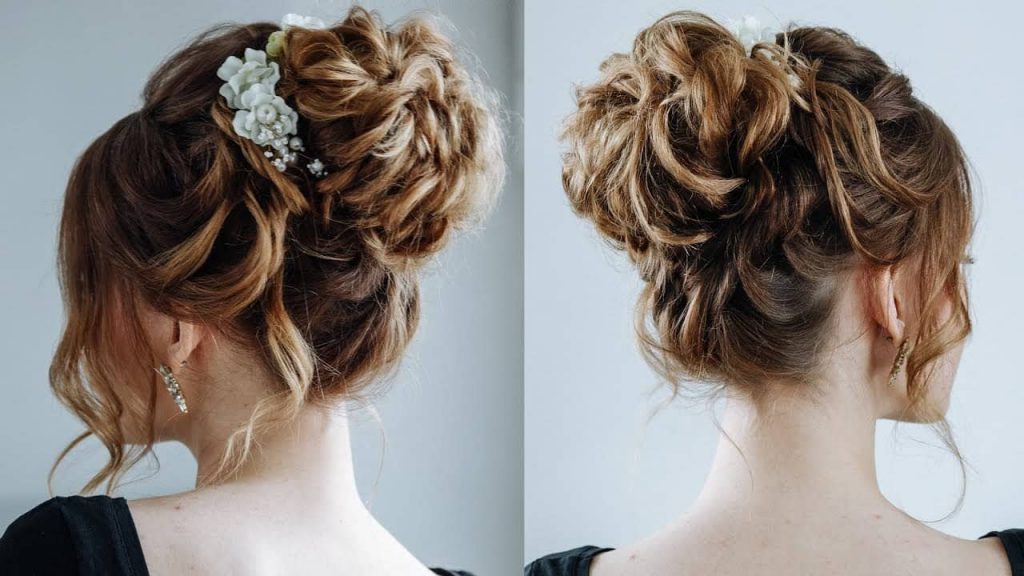 5 – The puffed retro look
If you have always dreamed of getting a retro look, nothing can be better than going for the puffed hairdo. It is a very common engagement hairstyle chosen by almost every bride. It'll make the look incredibly gorgeous as a retro bun makes your face even more appealing. In order to get the perfect retro bun hairstyle, make sure that you take the hair upwards and then create a bun. It would require a hair setting spray to get the hair up and leave some strands with loose curls in front for a stunning look.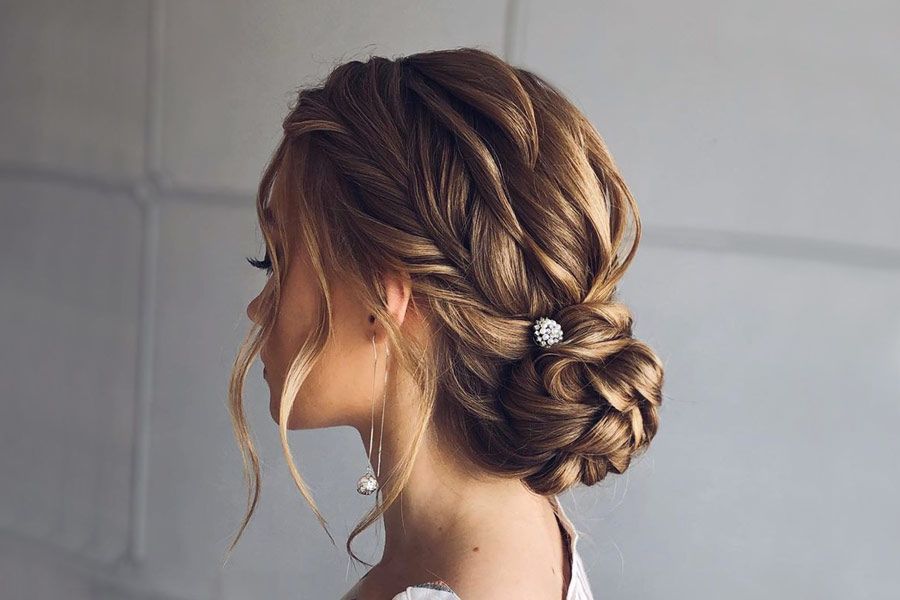 6 – Wavy Ponytail
You can also choose to go for a ponytail but in a little different way. A wavy ponytail can be a good choice for women with thick hair. Primarily, you need to create twisted braids on your crown part and bring it to an end while leaving the rest of the hair as it is. Make sure you loosely make the twisted braids, as it will help to give a voluminous look. Also, loose curls on the open hair will allow it to fit perfectly with the dress.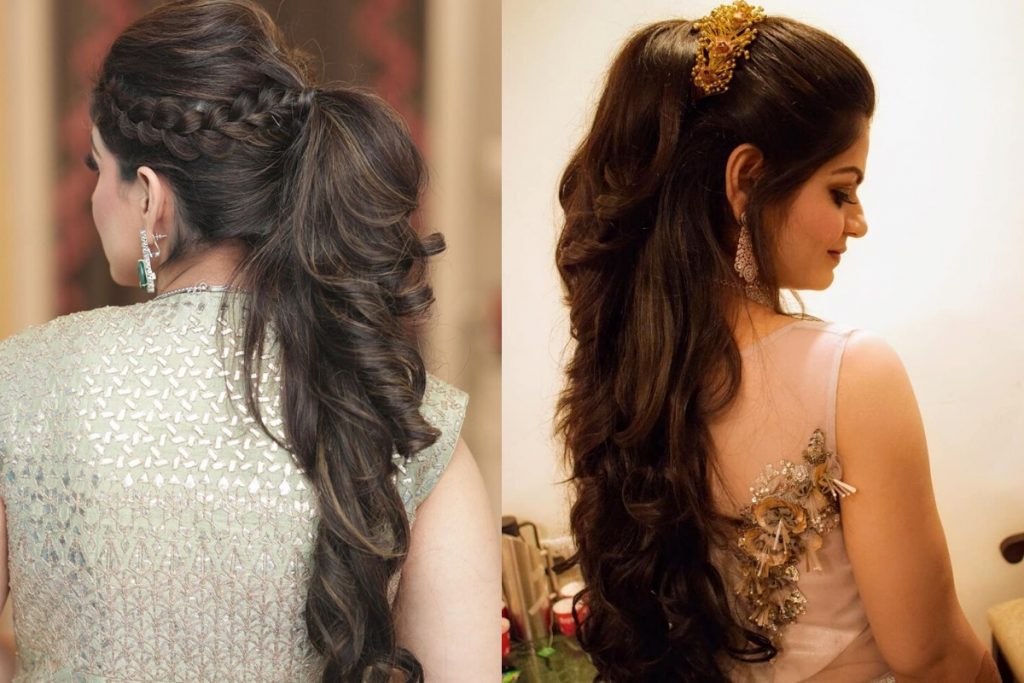 7 – The Voluminous braid
If you have chosen to go for an ethnic outfit and look royal, it is better to choose the best party Lehenga Hairstyle. Since designer lehengas are considered one of the ethnic wear, you can choose to create a voluminous braid with your dress and makeup. It is a classic look that goes exceptionally well with most Indian outfits. The best part is that you can also accessorize the voluminous braid you have created with flowers or beads.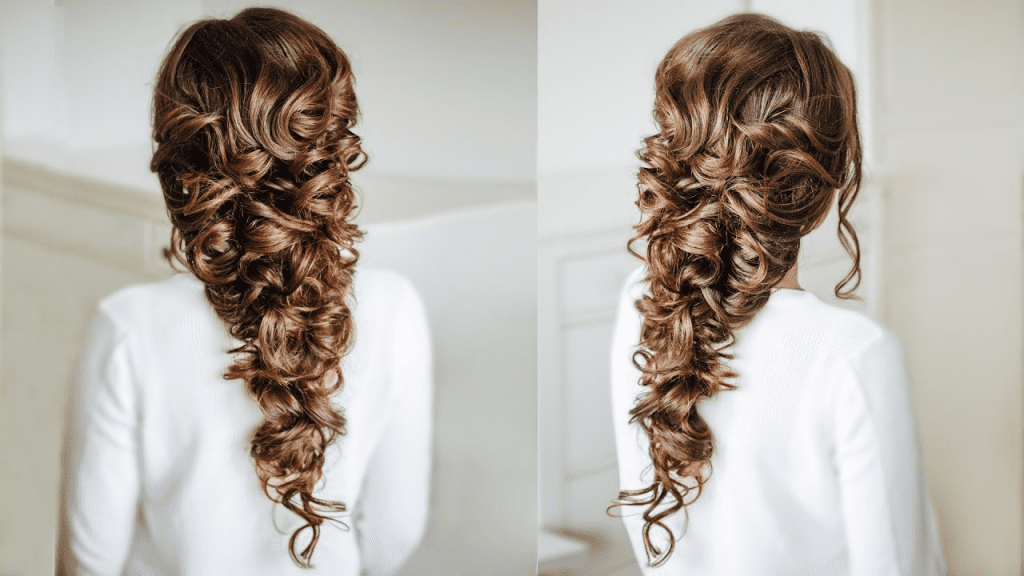 8 – Braided Bun
It is an elegant choice for people who are willing to make a bun with braids. If you have thick hair quality, a braided bun can be an excellent choice for you on your special day. It can create a statement about the ceremony. It generally makes smaller strands of braids from the front part of your head to the end. The braids run through the entire hair, leaving some strands at the end. Later, you have to take the braids and open your hair to loosely make it into a bun. You can accessorize it with floral touch or pearl.
9 – Cascading curls
If you want the best open hairstyle with gown, you can create a cascading one. The loosely flowing curls on your shoulders with the hairs rolled on the sides give a perfect princess look. You would need a floral wreath that you can tie.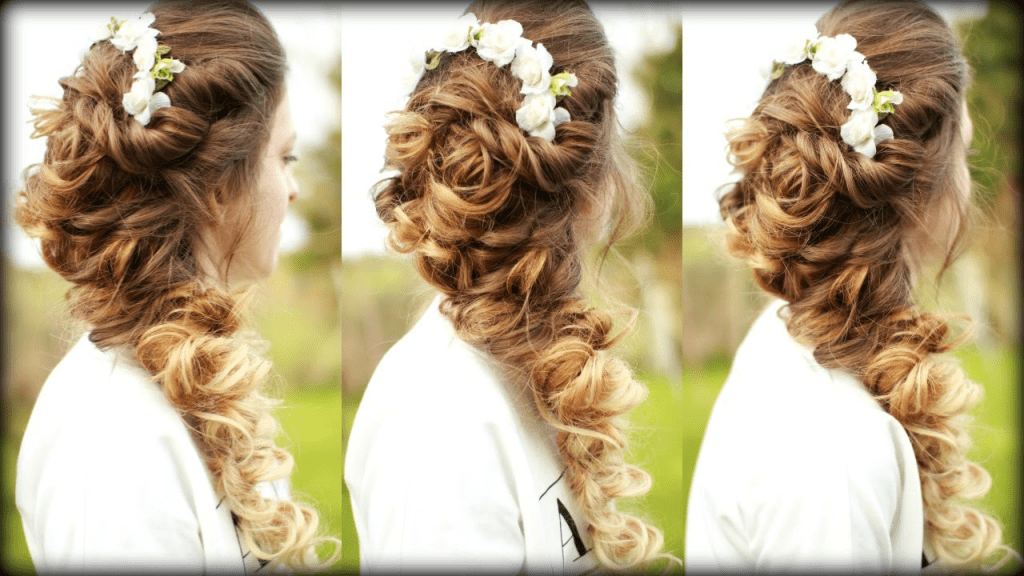 Choose the best hairstyle
Here, you can find a combination of hairstyles that you can choose according to your hair type and requirement. However, if you want to create an elegant engagement hairstyle, you must pay attention to the makeup, address, and hair type. It will give you a better idea if you can go for a bun or an open hairstyle.